Sadly we are unable to hold a traditional Fastathon this year due to COVID 19.  Instead we are having World Accord's first Virtual Conference on Global Solidarity.  It will take place over the same time frame that Fastathon usually happens but people will tune in either via World Accord's Facebook page or through our YouTube Channel.   We will have some presentations spaced out over the weekend that people can watch according to the schedule or if they are unable to attend, the presentations will be recorded and available in the same locations.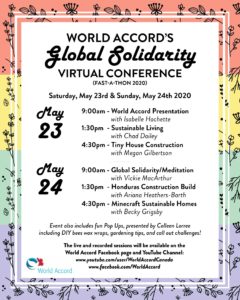 Some people WILL be fasting during the weekend since it is their tradition and may ask for sponsorships.   They will have their own way of collecting donations or you can phone the office at 1-800-525-3545 to leave a donation message.   The office is closed at the moment but we will get back to you so just leave a message for now.   
Additionally you can send an etransfer to donate@worldaccord.org and in the memo line let us know who you are sponsoring. Be sure to write to ameinzinger@worldaccord.org with your donation information and security word for the transfer.   
The Virtual Conference is not a fundraising event but there will be opportunities to donate during the presentations if people feel so moved.